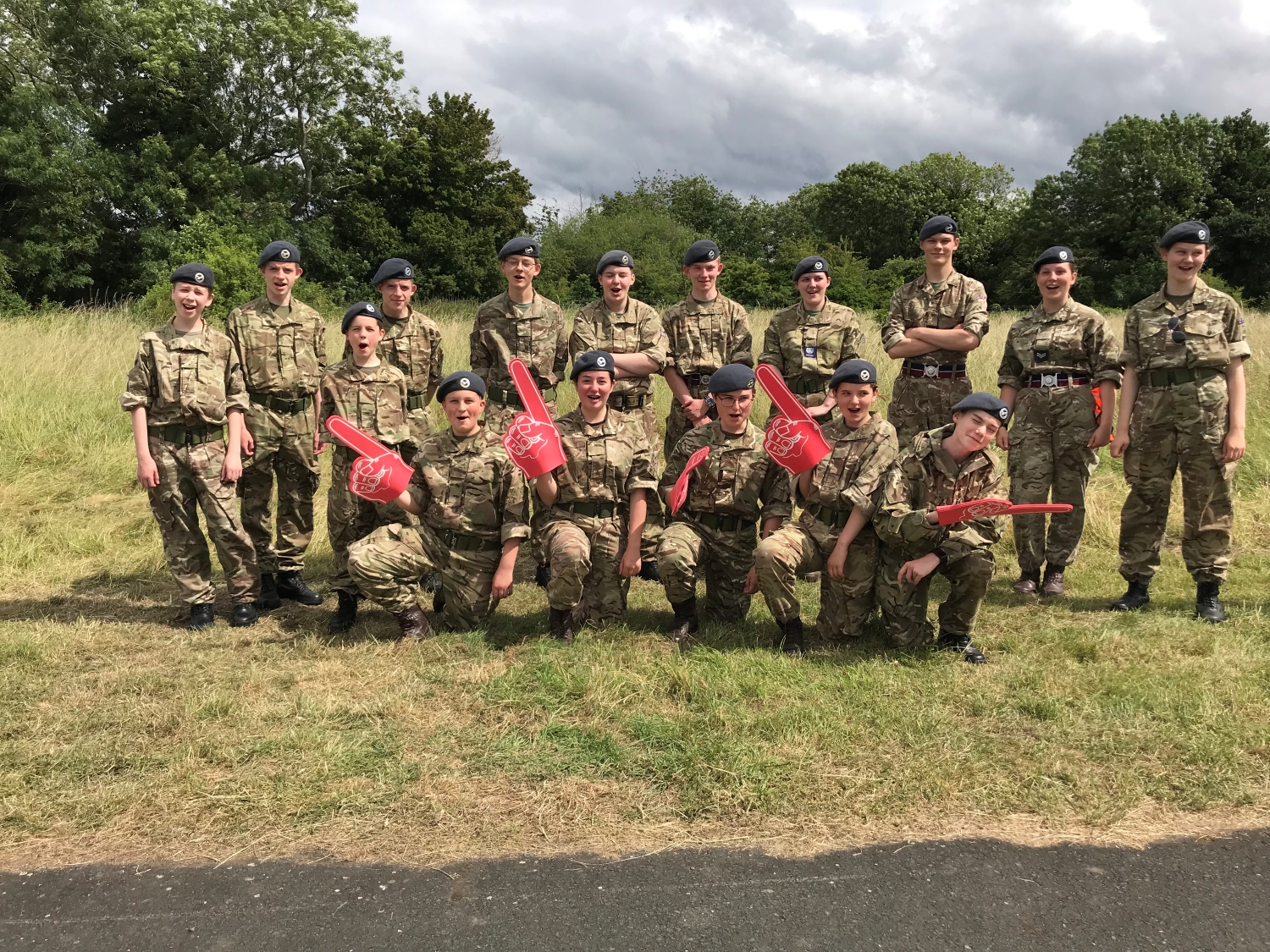 There are more than 40,000 Royal Air Force Air Cadets between the ages of 12 and 19 across the United Kingdom and, if you're not one already, we want you to join us.
Being an Air Cadet improves career and employment prospects and also often helps with performance at school. It's also a lot of fun.
An organisation for everyone
We're a diverse and inclusive youth organisation, sponsored by the Royal Air Force, that is keen to embrace opportunities in Air, Space and Cyberspace. We hold national camps as well as focused activities and experiences in flying, gliding, sport, adventurous training, drill, target shooting and cyber skills among others. We also can help you academically with BTECs in Aerospace Studies and Space Studies.
Our Honorary Air Commandant is HRH The Princess of Wales and we want people to become Air Cadets from all backgrounds and abilities.
Skills for life and any career
Air Cadets encourage a practical interest in aviation and the Royal Air Force but there is no obligation to join the Services. The skills you can gain can help you with whatever you want to do in life.
We always seek to encourage the spirit of adventure and develop qualities of leadership and good citizenship. That includes being able to communicate clearly, work as a member of a team, enhance social skills and accept diversity.
Being an Air Cadet is a rewarding and fulfilling experience. You can join for however long you want. We're not a recruiting organisation for the main RAF, so all the skills you learn and the experiences you gain will benefit whatever career path you choose.
To be an Air Cadet you must be 13 years old, or 12 years old if you're already in year 8 in school. The latest you can join is before your 17th birthday. Most cadets leave when they're 20 years old and some stay involved as an adult volunteer.
Weekly meetings and costs
We meet twice a week on Wednesday and Friday evenings from 7pm to 9.30pm. This means our parade nights should fit in easily with your other commitments and hobbies.
There's a small subscription to cover the running costs which usually works out at a few pounds per week.
Uniforms
Our cadets sport three types of uniforms: Working Blues, Wedgewood Blues, and PCS-MTP. You'll be issued with Working Blue and Wedgewood Blue uniforms, but you'll need to get your own MTP-PCS uniform set, along with Parade Shoes and Boots. No need to stress – we're here to guide you through the process! You'll have to look after your uniform as being a 'military' youth organisation, we have high standards to maintain. You'll take pride in your uniform and appearance and be well-mannered and self-disciplined.
Activities and training
We offer a wide range of fun and challenging activities, suitable for those with no experience and anyone who has already had a go. All Air Cadets can also benefit from training and gain qualifications that will be useful for all career choices, both in and out of the RAF.
Ready to join the Air Cadets?
We host two open evenings every year, usually in February and August, where you and your parents/guardians can discover more about the Air Cadets. Our virtual sessions run for about 1 hour and 30 minutes and include a presentation by one of our staff members, as well as a tour of our squadron building. Please take a moment to go through our frequently asked questions before registering for our next open evening. If we're not your local squadron, use the Air Cadet squadron finder.