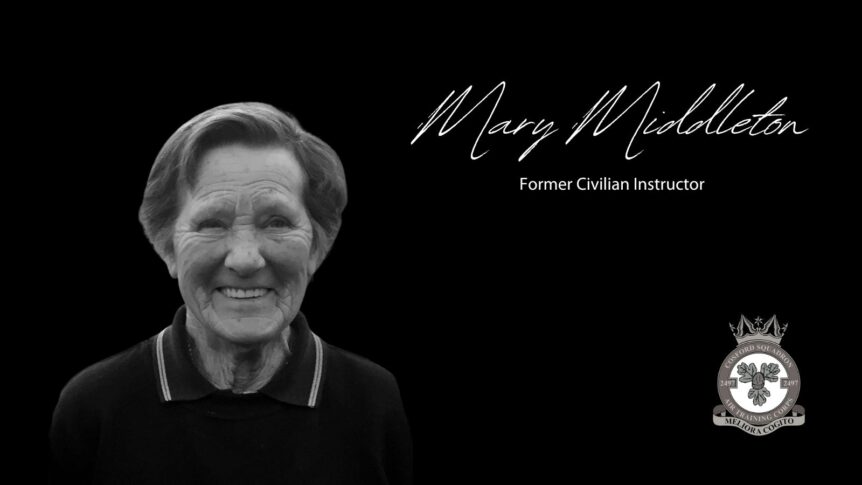 Remembering Mary Middleton
Monday 9 January 2023
It is with great sadness that we announce the passing of former Civilian Instructor Mary Middleton, who played an instrumental role in the smooth running of our squadron. Mary joined 2497 (Cosford) Squadron as a Civilian Instructor in 1984 when her sons, Peter and Paul were cadets. Mary volunteered with the squadron for an outstanding 36 years and only retired as a result of the COVID-19 Pandemic.
Past cadets would have known Mary for her work in the uniform stores, where she took great pride in ensuring that cadets throughout her time with the squadron were correctly kitted out. A task that required her to regularly collect fresh uniform supplies in her own time, ensuring that cadets had what they needed when they needed it. Alongside her uniform role, Mary would often be found serving in the squadron tuck shop.
In her earlier days as a Civilian Instructor, Mary taught many cadets to swim, although she couldn't swim herself. Many of those cadets who she taught to swim would also have been taught the RAF rank structure from a series of flashcards that she had made.
We cannot underestimate the contribution Mary made to the squadron over the years, she was a loyal staff member who had the welfare of the cadets at the forefront of her volunteering, which she balanced alongside her nursing career. She is a valued part of our squadron history and will be fondly remembered by all those who knew her and volunteered alongside her.