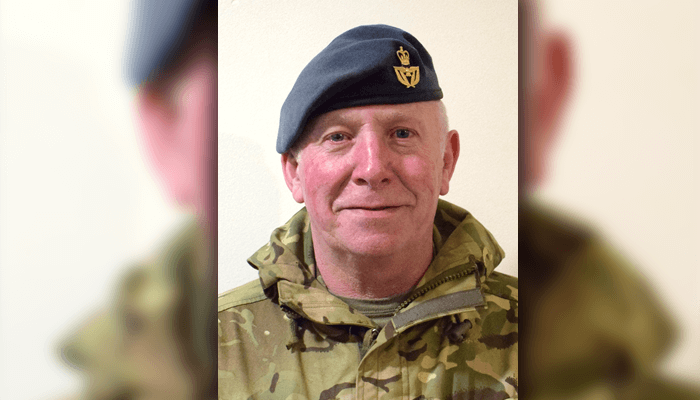 Volunteer in the Spotlight: Warrant Officer R. Lofthouse
The squadron is run by a team of adult volunteers, but how much do you know about each of them?
"…being a part of the Royal Air Force Air Cadets has given me confidence speaking in front of people."Warrant Officer (ATC) Rob Lofthouse
How would you describe your role? What are your usual duties?
I am a Training Officer and am head of drill and discipline in the squadron. Recently I've been modifying the remote controlled models which will hopefully be used in the near future.
What is your occupation outside of cadets?
I work at an adventure training camp where people undertake group exercises similar to activities as a part of the Duke of Edinburgh programme. The adventure training promotes corporate team building.
How did you find out about the Royal Air Force Air Cadets?
My knowledge naturally progressed over time. My interest in the Royal Air Force Air Cadets mainly stemmed from my daughter who was a cadet at 481 (West Bromwich) Squadron and being a father in the squadron gave me a greater insight.
Did you do any work inside the Royal Air Force Air Cadets before becoming a part of our squadron?
I was a member of the Civilian Committee for 2 years before becoming an NCO.
Why did you choose to become a part of the Royal Air Force Air Cadets?
I was interested in having more involvement within the squadron my daughter was a part of so I became a part of the civilian committee. It was also convenient at the time, as every parade night, I had to drive my daughter to West Bromwich Squadron. Over time I became increasingly involved and interested and gradually progressed to being a Warrant Officer at Cosford Squadron which I am particularly proud about.
What do you enjoy most about your role?
Seeing what cadets get out of the opportunities provided and how they use their experience to develop as individuals.
What have been the largest challenges and hurdles you've had to overcome?
I haven't really had any.
What are the reasons that make you want to volunteer for us?
I like to see the youth of today and help them to the best of my ability by providing them with guidance which will be beneficial for the rest of their life.
Is there anything you would like to change about our squadron?
Not much, the squadron will naturally develop over time. But it would always be nice to have more regular station visits.
What have been your highlights and best experiences you've had?
Becoming and fulfilling the rank of Warrant Officer as I was told as a Sergeant I would never become a Warrant Officer due to my age.
Were you a cadet yourself? Did this motivate you to fulfil this role? What were your best experiences whilst being a cadet?
I was a cadet myself but it did not motivate me to become a staff member at Cosford Squadron. I always knew that the cadets were offered the most opportunities and gained the most from being a part of the Royal Air Force Air Cadets. However, I thoroughly enjoyed my time as a cadet and my best experience must have been an unexpected flight to Cyprus whilst on a camp in a Hercules. Despite it being incredibly noisy and long, it was a spectacular and unexpected trip and it was particularly rewarding seeing the coast of France as well as Gibraltar.
What would you like cadets to know? Do you have any advice?
Always listen to what is said and take information in rather than repeatedly asking questions over subjects previously covered, apart from that, make the most of your time as a cadet.
What would you like cadets to do for you?
Nothing. I've already been given more than I could ask for, being a part of the Royal Air Force Air Cadets has given me confidence speaking in front of people which has been particularly beneficial. Cadets couldn't do anymore.
Are there any further plans or aims you wish to achieve?
No, I've gone through everything I've wished to. I've become a Deputy Wing Warrant Officer and I am the Wing BTEC Officer as well as a Warrant Officer at our squadron, I don't wish to take anything else on.
By Cadet C. Walthorne
Interested in joining our squadron?